---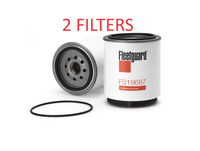 Sale
All cross numbers listed will fit and seal.  If you need more exact crossovers such as size or micron ratings message me.  The crosses listed are only a guide if specifics don't matter.  Use the pictures shown as a help in determining if this filter is right for you.
AYP-PARTS
We are a Baldwin and Fleetguard Filter distributor that purchases new filters directly from them.  If you wish to purchase any filters you don't see listed in our store, it's possible we have them in stock, if not we can order the filters for you.  We all want the best prices of anything we buy. If you see any new filters in our store that have a higher price than other stores you see online, send me a text.  Filters are also sold locally that could limit availability of filters you see online. 
If there are any filters we need to order or are short on stated inventory, I will text you personally and not from a robot.  Please leave a cell phone as your contact.  Otherwise, you will need to contact me for status.  Contacting me by text is best way.
Filters ordered Friday, Saturday, Sunday and before 10am Monday will ship out on Tuesday.    
Filters ordered Monday, Tuesday and Wednesday before 10am will ship out on Thursday.  
Filters ordered Wednesday, Thursday before 10am will ship out on Friday.
If you have a shop and those darn filters are just collecting dust. Send me a list of filters you have and how much you are asking and your location. I will look up part numbers you send to find the wholesale value and send an offer to you. The more presentable the filters are the more I can offer.
Thank You for visiting AYP-Parts.
No Returns offered if the part is not correct without contacting us first before order is made with the part number you need.  The cross-reference numbers listed are only as a guide.  Any charts you see online may not be 100% correct.  Some manufactures use the same part numbers but may be a different part.  We will confirm that this part will work for you when you contact us.
FS19687 (2 PACK) FLEETGUARD FUEL FILTER BF1223-O a584
| | |
| --- | --- |
| Brand: | Fleetguard |
| Product Style: | Fuel Filter |
| Technology: | Filtration |
| Product Type: | Fuel/Water Separator Spin-on with Open End for Bowl |
| Contains: | Bowl Thread: 3 3/4-10; Integral Post Seal |
| Thread Size: | 1-14 |
| Outside Diameter: | 4.35" |
| Length: | 5.18" |
| Gasket: | 1 Attached, 2 Furnished |
| Related To: | FS19931 (Drain Version) |
| Application: | Ford Trucks |
| Compatible Competitor Part Number: | Ford F1HZ-9365-A; Motorcraft FD3368 |
Popular Filter Cross References
P551852, BF1223O, 95231, 86231, FS19687, F1HZ9365A, H7060WK10, SN906010, 234011630, 234011440A, 10044302, WK10605X, WK1142X, 3231, 87802929, R60T, R60TDMAX, P550730, R60T, 47961126, FUL038, ABPN122R50551, S234011630, 211200010, A4004770002, 33231