---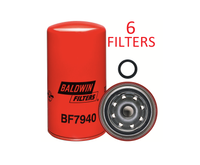 Sale
All cross numbers listed will spin on and seal.  If you need more exact crossovers such as size or micron ratings message me.  The crosses listed are only a guide if specifics don't matter.  Use the pictures shown as a help in determining if this filter is right for you.
                                                         AYP-PARTS
We are a Baldwin and Fleetguard Filter distributor that purchases new filters directly from them.  We also purchase filters from stores going out of business or old inventory stores want to get rid of. If you wish to purchase any filters you don't see listed in our store most likely I can order these filters for you. All Baldwin and Fleetguard filters are sold by the case unless smaller lots are shown. If you don't need a full case message us and we may be able to sell lesser quantities.  We all want the best prices of anything we buy. If you see any new filters in the store that have a higher price than other stores you see in online, send me a message.
If there are any filters, we need to order, that does not have a message in bold above on supply issues you will be sent a personal text so leave a cell number as your contact.  If I have time, I will update you every week or two on progress or you can send me a text at 636-887-6799.
If you have a shop and those darn filters are just collecting dust. Send me a list of filters you have and how much you are asking and your location. I will look up part numbers you send to find the wholesale value and send an offer to you. The more presentable the filters are the more I can offer.
Thank You for visiting AYP-Parts.
No Returns offered if the part is not correct without contacting us first before order is made with the part number you need.  The cross-reference numbers listed are only as a guide.  Any charts you see online may not be 100% correct.  Some manufactures use the same part numbers but may be a different part.  We will confirm that this part will work for you when you contact us.
BF7940 (6 PACK) BALDWIN FUEL FILTER FF5632 for Cummins ISB Engines a305


Technical Specifications
Product Type:

Fuel Spin-on

Notes:

CAUTION: Furnished End Seal must be installed on post for seal.

Contains:

Integral Post Seal

Thread Size:

M20 x 1.5

Outside Diameter:

3 11/16 (93.7)

Length:

7 7/32 (183.4)

Gasket:

Attached Gasket: G401; Furnished Gasket: [1] Included

Micron Rating:

4 Absolute

Application:

Ford, Freightliner, Kenworth, Peterbilt, Sterling Trucks; Cummins ISB Engine

Compatible Competitor Part Number:

Cummins 4934845; Fleetguard FF5632

Brand:

Baldwin
Popular Filter Cross References
4934845 BF7940 P550880 86682 73316835 84167233 84412164 84468410 84493919 87803199 87803200 87803208 21703110 4897897 4989106 1829166 FF5612 FF5790 BH1X9155AA P9454 9414101756 FF1174 SN40574 3978040 11LC70010 504292579 5801729418 SP125647 SP125671 LFF5421 LFF5632 WK929X 711853A1 3682 2124611 2852437 71102624 72130519 76615128 76615129 76615130 87621382 87622163 87622166 87803197 504043765 87803197MP MLR2124611 SK32972 FF550880 33682 580088512 42035598 BF7922 P10715 F65942


Popular Applications
| | | |
| --- | --- | --- |
| Make | Model | Engine |
| APACHE+Sprayer | AS1025 | w / Cummins (Interim Tier IV) Engine |
| AUTOCAR TRUCKS | XPERT | L6 6.7L 409 CID Cummins Turbo Diesel ISB |
| AUTOCAR TRUCKS | XSPOTTER | L6 6.7L 409 CID Cummins Turbo Diesel ISB |
| BLUE BIRD BUSES | ALL AMERICAN (FORWARD ENGINE) | L6 5.9L 359 CID Cummins Turbo Diesel |
| BLUE BIRD BUSES | ALL AMERICAN (FORWARD ENGINE) | L6 6.7L 6700CC 409CID |
| BLUE BIRD BUSES | ALL AMERICAN (REAR ENGINE) | L6 5.9L 359 CID Cummins Turbo Diesel |
| BLUE BIRD BUSES | ALL AMERICAN (REAR ENGINE) | L6 6.7L 6700CC 409CID |
| BLUE BIRD BUSES | COMMERCIAL BUS | L6 5.9L 359 CID Cummins Turbo Diesel |
| BLUE BIRD BUSES | CONVENTIONAL BUS | L6 6.7L 6700CC 409CID |
| BLUE BIRD BUSES | ULTRA LF | L6 5.9L 359 CID Cummins Turbo Diesel |
| BLUE BIRD BUSES | ULTRA LMB | L6 5.9L 359 CID Cummins Turbo Diesel |
| BLUE BIRD BUSES | VISION | L6 6.7L 6700CC 409CID |
| BLUE BIRD BUSES | XCEL 102 (TRANSIT) | L6 5.9L 359 CID Cummins Turbo Diesel |
| CUMMINS TRUCK ENGINES | ISB-07 (6.7L) | |
| CUMMINS TRUCK ENGINES | ISB5.9 (5.9L) | |
| CUMMINS TRUCK ENGINES | ISB6.7 (6.7) | |
| CUMMINS TRUCK ENGINES | QSB6.7 | |
| CUMMINS+(Also See Consolidated+Engines) | ISB07 | |
| CUMMINS+(Also See Consolidated+Engines) | ISB6.7 (6.7L) | |
| CUMMINS+(Also See Consolidated+Engines) | QSB6.7 (6.7L) | |
| CUMMINS+(Also See Consolidated+Engines) | QSB6.7 (6.7L) TIER IV | |
| DINA | PICKER | w / Cummin ISB-07 (6.7L) Engine |
| DYNAPAC+Rollers | CC7200 | L 6 6.7L 408 CID |
| FORD TRUCKS | F650 | L6 5.9L 359 CID Cummins Turbo Diesel |
| FORD TRUCKS | F650 | L6 6.7L 6700CC 408CID |
| FORD TRUCKS | F750 | L6 5.9L 359 CID Cummins Turbo Diesel |
| FORD TRUCKS | F750 | L6 6.7L 6700CC 408CID |
| FREIGHTLINER TRUCKS & BUSES | B2 CHASSIS | L6 6.7L 6700CC 409CID |
| FREIGHTLINER TRUCKS & BUSES | C2 CHASSIS | L6 6.7L 6700CC 409CID |
| FREIGHTLINER TRUCKS & BUSES | CARGO | L6 5.9L 5883CC 359CID |
| FREIGHTLINER TRUCKS & BUSES | FB65 CHASSIS | L6 6.7L 6700CC 409CID |
| FREIGHTLINER TRUCKS & BUSES | FC70 | L6 5.9L 5883CC 359CID |
| FREIGHTLINER TRUCKS & BUSES | FS65 | L6 6.7L 6700CC 409CID |
| FREIGHTLINER TRUCKS & BUSES | M2 106 | L6 6.7L 6700CC 409CID |
| FREIGHTLINER TRUCKS & BUSES | M2E | L6 6.7L 6700CC 409CID |
| FREIGHTLINER TRUCKS & BUSES | MB 45 | L6 5.9L 5883CC 359CID |
| FREIGHTLINER TRUCKS & BUSES | MC-L CHASSIS | L6 5.9L 5883CC 359CID |
| FREIGHTLINER TRUCKS & BUSES | MT45 CHASSIS | L6 6.7L 6700CC 409CID |
| FREIGHTLINER TRUCKS & BUSES | MT55 CHASSIS | L6 6.7L 6700CC 409CID |
| HAGIE+Sprayers | STS10 HI-TRACTOR | w / Cummins Diesel QSB6.7 Tier IV Eng. |
| HAGIE+Sprayers | STS10C HI-TRACTOR | w / Cummins Diesel QSB6.7 Tier IV Eng. |
| HAGIE+Sprayers | STS10T HI-TRACTOR | w / Cummins Diesel QSB6.7 Tier IV Eng. |
| HAGIE+Sprayers | STS12 HI-TRACTOR | w / Cummins Diesel QSB6.7 Tier IV Eng. |
| HAGIE+Sprayers | STS12C HI-TRACTOR | w / Cummins Diesel QSB6.7 Tier IV Eng. |
| HAGIE+Sprayers | STS12I HI-TRACTOR | w / Cummins Diesel QSB6.7 Tier IV Eng. |
| HAGIE+Sprayers | STS12IC HI-TRACTOR | w / Cummins Diesel QSB6.7 Tier IV Eng. |
| HAGIE+Sprayers | STS14 HI-TRACROR | w / Cummins Diesel QSB6.7 Tier IV Eng. |
| HAGIE+Sprayers | STS14C HI-TRACTOR | w / Cummins Diesel QSB6.7 Tier IV Eng. |
| HYUNDAI+Loaders | HL760-9A | w / Cummins QSB6.7 (Interim Tier IV) Engine |
| IC BUSES | CE SERIES (PB105) | L6 5.9L 5900CC 360CID |
| KAWASAKI+Loaders | 80Z7 | L6 6.7L 6700CC 409CID |
| KENWORTH TRUCKS | K270 | L6 6.7L 408 CID Paccar Turbo Diesel |
| KENWORTH TRUCKS | K270 | L6 6.7L 6700CC 409CID |
| KENWORTH TRUCKS | K370 | L6 6.7L 408 CID Paccar Turbo Diesel |
| KENWORTH TRUCKS | K370 | L6 6.7L 6700CC 409CID |
| KENWORTH TRUCKS | T170 | L6 6.7L 408 CID Paccar Turbo Diesel |
| KENWORTH TRUCKS | T270 | L6 6.7L 408 CID Paccar Turbo Diesel |
| KENWORTH TRUCKS | T370 | L6 6.7L 408 CID Paccar Turbo Diesel |
| PACCAR | PX-6 SERIES (6.7L) | |
| PETERBILT TRUCKS | 210 | L6 6.7L 408 CID Paccar Turbo Diesel |
| PETERBILT TRUCKS | 320 | L6 6.7L 408 CID Paccar Turbo Diesel |
| PETERBILT TRUCKS | 325 | L6 6.7L 408 CID Paccar Turbo Diesel |
| PETERBILT TRUCKS | 330 | L6 6.7L 408 CID Paccar Turbo Diesel |
| PETERBILT TRUCKS | 330 | L6 6.7L 408 CID Paccar Turbo Diesel/Electric |
| PETERBILT TRUCKS | 335 | L6 6.7L 408 CID Paccar Turbo Diesel |
| PETERBILT TRUCKS | 335 | L6 6.7L 408 CID Paccar Turbo Diesel/Electric |
| PETERBILT TRUCKS | 337 | L6 6.7L 408 CID Paccar Turbo Diesel |
| STERLING TRUCKS | ACTERRA | L6 6.7L 6691CC 408CID |
| STERLING TRUCKS | SC8000 | L6 5.9L 359 CID Cummins Turbo Diesel |
| STERLING TRUCKS | SC8000 | L6 6.7L 6691CC 408CID |
| THOMAS BUSES | SAF-T-LINER | L6 5.9L 359 CID Cummins Turbo Diesel |
| THOMAS BUSES | SAF-T-LINER | L6 6.7L 408 CID Cummins Turbo Diesel |
| TIGER CAT+Equipment | 234B | L 4 4.5L |
| TIGER CAT+Equipment | 620E | L 6 6.7L |
| TIGER CAT+Equipment | 845D | L 6 6.7L |
| TIGER CAT+Equipment | L845D | L 6 6.7L |