---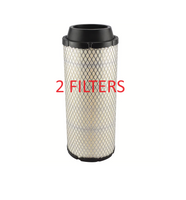 Sale
All cross numbers listed will fit and seal.  If you need more exact crossovers such as size and micron ratings message me.  The crosses listed are only a guide if specifics don't matter.  Use the pictures shown as a help in determining if this filter is right for you.
AYP-PARTS
We are a Baldwin and Fleetguard Filter distributor that purchases new filters directly from them.  We also purchase filters from stores going out of business or old inventory stores want to get rid of. If you wish to purchase any filters you don't see listed in our store most likely I can order these filters for you. All Baldwin and Fleetguard filters are sold by the case unless smaller lots are shown. If you don't need a full case message us and we may be able to sell lesser quantities.  We all want the best prices of anything we buy. If you see any new filters in the store that have a higher price than other stores you see in online, send me a message.
If you have a shop and those darn filters are just collecting dust. Send me a list of filters you have and how much you are asking and your location. I will look up part numbers you send to find the wholesale value and send an offer to you. The more presentable the filters are the more I can offer.
Thank You for visiting AYP-Parts.
No Returns offered if the part is not correct without contacting us first before order is made with the part number you need.  The cross-reference numbers listed are only as a guide.  Any charts you see listed even if they are provided by eBay may not be 100% correct.  Some manufactures use the same part numbers but may be a different part.  We will confirm that this part will work for you when you contact us.
RS3942 (2 PACK) BALDWIN AIR FILTER AF26389 a289
| | |
| --- | --- |
| Brand: | Baldwin |
| Product Style: | Air Filter |
| Technology: | Filtration |
| Product Type: | Radial Seal Outer Air Element |
| For Use With: | RS3943 |
| Outside Diameter: | 4 31/32 (126.2) |
| Inside Diameter: | 2 31/32 (75.4) One End |
| Length: | 12 17/32 (318.3) |
| Application: | Ahlmann, Massey Ferguson Tractors; Atlas Copco Compressors; Bomag Compactors; Melroe-Bobcat Lift Trucks |
| Compatible Competitor Part Number: | Mann & Hummel C14200 |
Popular Filter Cross References
7558012, 4108914A, 756924, 2914930200, C14200, RS3942, 22295794, 5821326, 58213226, LE441, AEM2808, 1319142, 220020, 9842388, B669, AR2003, AF25727, AF26389, AFR825727, HD8984, 188814, FC723, 1574A, 1244620, 24247003180, E1600L, SA17104, 635320, SL8386, 1319142, LA1913, TD27093230, LAF8749, LX3008, 410891A, C14200, 055113R1, 3901462M1, 3901462M2, 40940405, 40940504, 9462, 870021002, 2242100, AF778984, 147170, 49462, WGA1228
Popular Applications
| | | |
| --- | --- | --- |
| Make | Model | Engine |
| AHLMANN+Miscellaneous Equipment | AF60 | w / Deutz F3L1011 Engine |
| AHLMANN+Miscellaneous Equipment | AS45 | w / Deutz F3L1011 Engine |
| AHLMANN+Miscellaneous Equipment | AZ45 | w / Deutz F3L1011F Engine |
| BOBCAT+Telescopic Handlers | T3071 | w / Perkins 1004-42 Engine |
| BOBCAT+Telescopic Handlers | T3093 | w / Perkins 1004-42 Engine |
| BOBCAT+Telescopic Handlers | T3093S | w / Perkins 1004-42 Engine |
| BOMAG+Rollers | BW100AC-4 | w / Kubota D1703M Engine |
| BOMAG+Rollers | BW100AC-5 | w / Kubota D1703 MDI (Interim Tier IV) Engine |
| BOMAG+Rollers | BW100AD-4 | w / Kubota D1703M Engine |
| BOMAG+Rollers | BW100AD-5 | w / Kubota D1703 MDI (Interim Tier IV) Engine |
| BOMAG+Rollers | BW100SL-5 | w / Kubota D1703 MDI (Interim Tier IV) Engine |
| BOMAG+Rollers | BW115AC | w / Kubota D1503 Engine |
| BOMAG+Rollers | BW115AD | w / Kubota D1503 Engine |
| BOMAG+Rollers | BW120AC-4 | w / Kubota D1703M Engine |
| BOMAG+Rollers | BW120AC-5 | w / Kubota D1703 MDI (Interim Tier IV) Engine |
| BOMAG+Rollers | BW120AD-4 | w / Kubota D1703M Engine |
| BOMAG+Rollers | BW120AD-5 | w / Kubota D1703 MDI (Interim Tier IV) Engine |
| BOMAG+Rollers | BW120SL-5 | w / Kubota D1703 MDI (Interim Tier IV) Engine |
| BOMAG+Rollers | BW124DH-40 | w / Deutz D2011 LO3i (Tier IV Interim) Engine |
| BOMAG+Rollers | BW124DH3 | w / Deutz F3L1011 Engine |
| BOMAG+Rollers | BW124PDH-40 | w / Deutz D2011 LO3i (Tier IV Interim) Engine |
| BOMAG+Rollers | BW124PDH3 | w / Deutz F3L1011 Engine |
| BOMAG+Rollers | BW125AC-4 | w / Kubota D1703M Engine |
| BOMAG+Rollers | BW125AD-4 | w / Kubota D1703M Engine |
| BOMAG+Rollers | BW125AD-5 | w / Kubota D1703 MDI (Interim Tier IV) Engine |
| BOMAG+Rollers | BW131ACW | w / Kubota V1505 Engine |
| BOMAG+Rollers | BW131AD | w / Kubota V1505 Engine |
| BOMAG+Rollers | BW135AC-5 | w / Kubota V2203 3a/4i Engine |
| BOMAG+Rollers | BW135AD-5 | w / Kubota V2203 3a/4i Engine |
| BOMAG+Rollers | BW138AC-5 | w / Kubota V2203 3a/4i Engine |
| BOMAG+Rollers | BW138AD-5 | w / Kubota V2203 3a/4i Engine |
| BOMAG+Rollers | BW154ACP | w / Kubota V3307DIT Engine |
| BOMAG+Rollers | BW154ACP AM | w / Kubota V3307DIT Engine |
| BOMAG+Rollers | BW154AP | w / Kubota V3307DIT Engine |
| BOMAG+Rollers | BW154AP AM | w / Kubota V3307DIT Engine |
| CATERPILLAR+Excavators | 303.5E2 | L3 1.7L 1700CC 104CID |
| CATERPILLAR+Excavators | 303.5E2 CR | L3 1.7L 1700CC 104CID |
| CATERPILLAR+Excavators | 304.5E2 | L4 2.4L 148CID |
| CATERPILLAR+Excavators | 304E2 | L4 2.4L 2400CC 146CID |
| CATERPILLAR+Excavators | 304E2 CR | L4 2.4L 2400CC 146CID |
| CATERPILLAR+Excavators | 305.5E2 | L 4 2.4L 2400cc 146 CID (Naturally Aspirated C2.4 Diesel HP 40.2 KW 32.9 Mfr Caterpillar ) |
| CATERPILLAR+Excavators | 305.5E2 CR | L 4 2.4L 2400cc 146 CID (Naturally Aspirated C2.4 Diesel HP 40.2 KW 32.9 Mfr Caterpillar ) |
| CATERPILLAR+Excavators | 305E2 | L4 2.4L 2400CC 146CID |
| CATERPILLAR+Excavators | 305E2 CR | L4 2.4L 2400CC 146CID |
| CATERPILLAR+Excavators | 308E2 CR | L 4 3.3L 3300cc 203.2 CID (Turbo C3.3B Diesel HP 65 KW 48.5 Mfr Caterpillar ) |
| CATERPILLAR+Excavators | 308E2 CR VAB | L 4 3.3L 3300cc 203.2 CID (Turbo C3.3B Diesel HP 65 KW 48.5 Mfr Caterpillar ) |
| CATERPILLAR+Excavators | 308E2 SR | L 4 3.3L 3300cc 203.2 CID (Turbo C3.3B Diesel HP 65 KW 48.5 Mfr Caterpillar ) |
| CATERPILLAR+Loaders | 226D | L4 2.2L 2200CC 134CID |
| CATERPILLAR+Loaders | 239D | L4 2.2L 2200CC 134CID |
| CATERPILLAR+Loaders | 239D3 | w / Caterpillar C2.2 Tier IV Engine |
| CATERPILLAR+Loaders | 249D | L4 2.2L 2200CC 134CID |
| CATERPILLAR+Skidders | 226D | L4 2.216L 2216CC 135CID |
| CATERPILLAR+Skidders | 232D | L4 2.216L 2216CC 135CID |
| CATERPILLAR+Skidders | 239D | L4 2.216L 2216CC 135CID |
| CATERPILLAR+Skidders | 249D | L4 2.216L 2216CC 135CID |
| CHALLENGER+Farm Tractors | CHALLENGER MT425 | w / Perkins 4L (243CID) Engine |
| CHALLENGER+Farm Tractors | CHALLENGER MT445 | w / Perkins 4.2L (258CID) Engine |
| GEHL+Excavators | 603 | w / Yanmar 4TNV98 Tier II Eng. |
| GEHL+Excavators | 753Z | w / Yanmar 4TNV98 Tier II Eng. |
| GEHL+Excavators | 803 | w / Yanmar 4TNV98 Tier II Eng. |
| GEHL+Skid Steer/Track Loaders | 3640E | w / Yanmar 3TNV88-BKMS Tier IV Eng. |
| GEHL+Skid Steer/Track Loaders | 3640E | w / Yanmar 3TNV88-XMS2 Tier III Eng. |
| GEHL+Skid Steer/Track Loaders | 3840E | w / Yanmar 3TNV88-BKMS Tier IV Eng. |
| GEHL+Skid Steer/Track Loaders | 3840E | w / Yanmar 3TNV88-XMS2 Tier III Eng. |
| GEHL+Skid Steer/Track Loaders | 4240E | w / Yanmar 4TNV88-BKMS Tier IV Eng. |
| GEHL+Skid Steer/Track Loaders | 4240E | w / Yanmar 4TNV88-XMS2 Tier III Eng. |
| GEHL+Skid Steer/Track Loaders | CTL55 | w / Yanmar 4TNV84T Eng. |
| GEHL+Skid Steer/Track Loaders | CTL65 | w / Yanmar 4TNV98 Eng. |
| GEHL+Skid Steer/Track Loaders | R135 | w / Yanmar 4TNV88C-KMS Tier IV Eng. |
| GEHL+Skid Steer/Track Loaders | R150 | w / Yanmar 4TNV88C-KMS Tier IV Eng. |
| GENIE+Lifts, Scissor Lifts, Telehandlers | GTH1056 TELEHANDLER | w / Deutz Diesel TCD3.6 Eng. |
| GENIE+Lifts, Scissor Lifts, Telehandlers | GTH1056 TELEHANDLER | w / Perkins Diesel 1104D-E44TA Eng. |
| GENIE+Lifts, Scissor Lifts, Telehandlers | GTH1056 TELEHANDLER | w / Perkins Diesel 1204E-E44TA Eng. |
| GENIE+Lifts, Scissor Lifts, Telehandlers | GTH2506 TELEHANDLER | w / Deutz D2011L04 Tier IV Eng. |
| GENIE+Lifts, Scissor Lifts, Telehandlers | GTH3007 TELEHANDLER | w / Deutz D2011L04 Tier IV Eng. |
| GENIE+Lifts, Scissor Lifts, Telehandlers | GTH5519 TELEHANDLER | w / Deutz Diesel TD2011 Tier III Eng. |
| GENIE+Lifts, Scissor Lifts, Telehandlers | GTH5519 TELEHANDLER | w / Perkins Diesel 804D-33 Eng. |
| GENIE+Lifts, Scissor Lifts, Telehandlers | GTH5519S TELEHANDLER | w / Deutz Diesel TD2011 Tier III Eng. |
| GENIE+Lifts, Scissor Lifts, Telehandlers | GTH5519S TELEHANDLER | w / Perkins Diesel 804D-33 Eng. |
| J.C.B. (J C BAMFORD)+Excavators | JZ70 | w / Isuzu 4JG1 Eng. |
| J.C.B. (J C BAMFORD)+Rollers | VMT390 SERIES VIBROMAX | w / Kubota V2203 Eng. |
| J.C.B. (J C BAMFORD)+Rollers | VMT400 SERIES VIBROMAX | w / Kubota V2203 Eng. |
| J.C.B. (J C BAMFORD)+Rollers | VMT480 SERIES VIBROMAX | w / Kubota V2203 Eng. |
| J.C.B. (J C BAMFORD)+Rollers | VMT500 SERIES VIBROMAX | w / Kubota V2203 Eng. |
| JLG INDUSTRIES INC+Aerial Platforms | 153-22 LIFTLUX | w / Deutz F3L2011 Eng. |
| JLG INDUSTRIES INC+Aerial Platforms | 203-24 LIFTLUX | w / Deutz D2011L03i Eng. |
| JLG INDUSTRIES INC+Aerial Platforms | 203-24 LIFTLUX | w / Deutz F3L2011 Eng. |
| JLG INDUSTRIES INC+Aerial Platforms | 210-25 LIFTLUX | w / Deutz F4M2011F Eng. |
| JLG INDUSTRIES INC+Aerial Platforms | 245-25 LIFTLUX | w / Deutz F4M2011F Eng. |
| JLG INDUSTRIES INC+Aerial Platforms | 260-25 LIFTLUX | w / Deutz TD2011L04i Eng. |
| KAESER+Compressors | MOBILAIR M32 | w / Lombardini 11LD626-3 Eng. |
| KAESER+Compressors | MOBILAIR M51 | w / Deutz F4L1011F Eng. |
| KAESER+Compressors | MOBILAIR M56 | w / Deutz F4L1011 Eng. |
| KUBOTA+Engines | V2006-M-E2 | |
| KUBOTA+Engines | V2006-M-E3 | |
| KUBOTA+Engines | V2403-M-E3 | |
| KUBOTA+Engines | V2403-M-TE3 | |
| KUBOTA+Tractors (Includes Lawn & Garden) | L4060DT (4WD) | L4 2.434L 2434CC 149CID |
| KUBOTA+Tractors (Includes Lawn & Garden) | L4060GST (4WD) | L4 2.434L 2434CC 149CID |
| KUBOTA+Tractors (Includes Lawn & Garden) | L4060HST (4WD) | L4 2.434L 2434CC 149CID |
| KUBOTA+Tractors (Includes Lawn & Garden) | L4060HSTC (4WD) | L4 2.434L 2434CC 149CID |
| KUBOTA+Tractors (Includes Lawn & Garden) | L47 (4WD) | L4 2.434L 2434CC 149CID |
| KUBOTA+Tractors (Includes Lawn & Garden) | L4740GST-3 | L4 2.434L 2434CC 149CID |
| KUBOTA+Tractors (Includes Lawn & Garden) | L4740HST-3 | L4 2.434L 2434CC 149CID |
| KUBOTA+Tractors (Includes Lawn & Garden) | L4740HSTC-3 | L4 2.434L 2434CC 149CID |
| KUBOTA+Tractors (Includes Lawn & Garden) | L4760GST (4WD) | L4 2.434L 2434CC 149CID |
| KUBOTA+Tractors (Includes Lawn & Garden) | L4760HST (4WD) | L4 2.434L 2434CC 149CID |
| KUBOTA+Tractors (Includes Lawn & Garden) | L4760HSTC (4WD) | L4 2.434L 2434CC 149CID |
| KUBOTA+Tractors (Includes Lawn & Garden) | L5040GST-3 | L4 2.434L 2434CC 149CID |
| KUBOTA+Tractors (Includes Lawn & Garden) | L5040HST-3 | L4 2.434L 2434CC 149CID |
| KUBOTA+Tractors (Includes Lawn & Garden) | L5040HSTC-3 | L4 2.434L 2434CC 149CID |
| KUBOTA+Tractors (Includes Lawn & Garden) | L5060GST (4WD) | L4 2.434L 2434CC 149CID |
| KUBOTA+Tractors (Includes Lawn & Garden) | L5240GST-3 | L4 2.434L 2434CC 149CID |
| KUBOTA+Tractors (Includes Lawn & Garden) | L5240HST-3 | L4 2.434L 2434CC 149CID |
| KUBOTA+Tractors (Includes Lawn & Garden) | L5240HSTC-3 | L4 2.434L 2434CC 149CID |
| KUBOTA+Tractors (Includes Lawn & Garden) | L5460HST (4WD) | L4 2.434L 2434CC 149CID |
| KUBOTA+Tractors (Includes Lawn & Garden) | L5460HSTC (4WD) | L4 2.434L 2434CC 149CID |
| KUBOTA+Tractors (Includes Lawn & Garden) | L5740HST-3 | L4 2.434L 2434CC 149CID |
| KUBOTA+Tractors (Includes Lawn & Garden) | L5740HSTC-3 | L4 2.434L 2434CC 149CID |
| KUBOTA+Tractors (Includes Lawn & Garden) | L6060HST (4WD) | L4 2.434L 2434CC 149CID |
| KUBOTA+Tractors (Includes Lawn & Garden) | L6060HSTC (4WD) | L4 2.434L 2434CC 149CID |
| KUBOTA+Tractors (Includes Lawn & Garden) | M62 (4WD) | L4 2.434L 2434CC 149CID |
| KUBOTA+Tractors (Includes Lawn & Garden) | M62TLB | L4 2.434L 2434CC 149CID |
| MASSEY-FERGUSON+Farm, Lawn & Construction Tractor | MF251XE | w / Perkins Diesel 903.27 Eng. |
| MASSEY-FERGUSON+Farm, Lawn & Construction Tractor | MF415 | L3 2.5L 2500CC 153CID |
| MASSEY-FERGUSON+Farm, Lawn & Construction Tractor | MF415N | L3 2.5L 2500CC 153CID |
| MASSEY-FERGUSON+Farm, Lawn & Construction Tractor | MF4215 | w / Perkins Diesel 903.27 Eng. |
| MASSEY-FERGUSON+Farm, Lawn & Construction Tractor | MF4225 | w / Perkins Diesel 1004 (Green) Eng. |
| MASSEY-FERGUSON+Farm, Lawn & Construction Tractor | MF4225 | w / Perkins Diesel 4.41 (Blue) Eng. |
| MASSEY-FERGUSON+Farm, Lawn & Construction Tractor | MF4235 | w / Perkins Diesel 1004 (Green) Eng. |
| MASSEY-FERGUSON+Farm, Lawn & Construction Tractor | MF4235 | w / Perkins Diesel 4.41 (Blue) Eng. |
| MASSEY-FERGUSON+Farm, Lawn & Construction Tractor | MF4240 | w / Perkins Diesel 1004 (Green) Eng. |
| MASSEY-FERGUSON+Farm, Lawn & Construction Tractor | MF4240 | w / Perkins Diesel 4.41 (Blue) Eng. |
| MASSEY-FERGUSON+Farm, Lawn & Construction Tractor | MF4315 | w / Perkins Diesel 903.27 Eng. |
| MASSEY-FERGUSON+Farm, Lawn & Construction Tractor | MF4325 | w / Perkins Diesel 1004.40 Eng. |
| MASSEY-FERGUSON+Farm, Lawn & Construction Tractor | MF4335 | w / Perkins Diesel 1004.42 Eng. |
| MASSEY-FERGUSON+Farm, Lawn & Construction Tractor | MF451 | w / Perkins Diesel 1103C.33 Tier II Eng. |
| MASSEY-FERGUSON+Farm, Lawn & Construction Tractor | MF451 | w / Perkins Diesel 903.27T Eng. |
| NISSAN+Fork Lifts | D01S SERIES | w / Diesel TD27 Eng. |
| NISSAN+Fork Lifts | D02S SERIES | w / Diesel TD27 Eng. |
| NISSAN+Fork Lifts | D02S SERIES | w / H25 Eng. |
| NISSAN+Fork Lifts | D03S (1D1S) SERIES | w / Diesel QD32 Eng. |
| NISSAN+Fork Lifts | D04S (1D2S) SERIES | w / Diesel QD32 Eng. |
| NISSAN+Fork Lifts | D04S (1D2S) SERIES | w / K25 Eng. |
| OWATONNA-MUSTANG+Loaders | 1350R | W/ |
| OWATONNA-MUSTANG+Loaders | 2026 | L 3 1.64L 100 CID |
| OWATONNA-MUSTANG+Loaders | 2041 | L 4 2.19L 133 CID |
| OWATONNA-MUSTANG+Loaders | MTL312 | L 4 2.0L 121.7 CID |
| OWATONNA-MUSTANG+Loaders | MTL316 | L 4 3.3L 203 CID |
| SCHAEFF+Loaders | SCL515 | w / Deutz F4L1011F Eng. |
| SCHAEFF+Loaders | SKL833 | w / Perkins 704-30 Eng. |
| SKYJACK+Telescopic Boom Lifts | SJ66T | w / Deutz Diesel D2011L03i Eng. |
| TAKEUCHI+Excavators | TB260 | L4 1.995L 1995CC 122CID |
| TAKEUCHI+Loaders | TL220 | L4 2L 2000CC 122CID |
| TAKEUCHI+Loaders | TL230 | L4 3.33L 3330CC 203CID |
| TAKEUCHI+Loaders | TL230 | L4 3.3L 3300CC 201CID |
| TEREX+Excavators | TC48 | L4 2.5L 2491CC 152CID |
| TEREX+Excavators | TW70 | L4 |
| TEREX+Loaders | SCL515 | w / Deutz F4L1011F Eng. |
| TEREX+Loaders | SKL823 | |
| WIRTGEN+Equipment | W35 MILLING MACHINE | |
| WIRTGEN+Equipment | W35DC MILLING MACHINE | |