---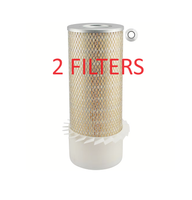 Sale
These filters are a stocking item. Sometimes however, our inventory can fall short due to supply issues from Baldwin. If needed, we will order directly from them and send to you next business day. We receive orders in about 2 weeks. If it looks like it will take longer, we will send you a text.
If you need the PA2419 inner filter, search that number or type in a245.  The PA2305 and PA2332 I don't stock but can order them for you.
All cross numbers listed will fit and seal.  If you need more exact crossovers such as size or micron ratings message me.  The crosses listed are only a guide if specifics don't matter.  Use the pictures shown as a help in determining if this filter is right for you.
AYP-PARTS
We are a Baldwin and Fleetguard Filter distributor that purchases new filters directly from them.  If you wish to purchase any filters you don't see listed in our store, it's possible we have them in stock, if not we can order the filters for you.  We all want the best prices of anything we buy. If you see any new filters in our store that have a higher price than other stores you see online, send me a text.  Filters are also sold locally that could limit availability of filters you see online. 
If there are any filters we need to order or are short on stated inventory, I will text you personally and not from a robot.  Please leave a cell phone as your contact.  Otherwise, you will need to contact me for status.  Contacting me by text is best way.
Filters ordered Friday, Saturday, Sunday and before 10am Monday will ship out on Tuesday.    
Filters ordered Monday, Tuesday and Wednesday before 10am will ship out on Thursday.  
Filters ordered Wednesday, Thursday before 10am will ship out on Friday.
If you have a shop and those darn filters are just collecting dust. Send me a list of filters you have and how much you are asking and your location. I will look up part numbers you send to find the wholesale value and send an offer to you. The more presentable the filters are the more I can offer.
Thank You for visiting AYP-Parts.
No Returns offered if the part is not correct without contacting us first before order is made with the part number you need.  The cross-reference numbers listed are only as a guide.  Any charts you see online may not be 100% correct.  Some manufactures use the same part numbers but may be a different part.  We will confirm that this part will work for you when you contact us.
PA2418FN (2 PACK) BALDWIN AIR FILTER AF1733K a641


| | |
| --- | --- |
| Brand: | Baldwin |
| Division: | Engine Mobile Aftermarket |
| Industry: | Power Generation |
| Product Type: | Outer Air Element with Fins |
| For Use With: | PA2305, PA2332, PA2419 |
| Outside Diameter: | 6 3/32 (154.8) Fins 7 13/16 (198.4) |
| Inside Diameter: | 3/4 (19.0) & 3 15/32 (88.1) |
| Length: | 15 5/16 (388.9) |
| Gasket: | Attached Gasket: [1] Attached; Furnished Gasket: G103-N |
| Related To: | LL2418-FN (Long-Life Media Version) |
| Application: | Allis Chalmers, Case, Caterpillar, Dresser, Fiat-Allis, John Deere, Kobelco, Komatsu, New Holland Equipment |
| Compatible Competitor Part Number: | Allis Chalmers 79011386; Case D56453; Caterpillar 7E0975; Fiat 73067507; Kobelco 2451U124-3A; Komatsu 600-181-9240 |
Popular Filter Cross References
2321 79011386 D56453 7E0975 73067507 2451U1243A 6001819240 P181059 CAK565A AF477 LAF1544 150478A1 93321 87321 4137604 1105717C1 3153187R1 CH18287 TH106445 C16302 C16335 4280099B 373376 A62044 42321  

Popular Applications
Allis-Chalmers, Case 9010, 9020 Excavators, Caterpillar, Dresser, Fiat-Allis, John Deere, Kobelco, Komatsu, Massey-Ferguson, New Holland Equipment.